Press photos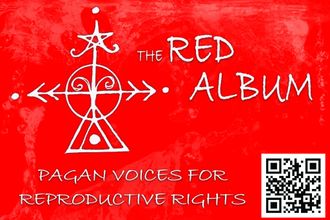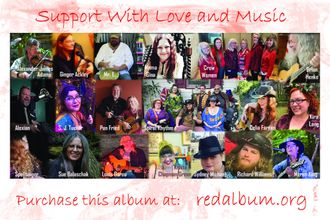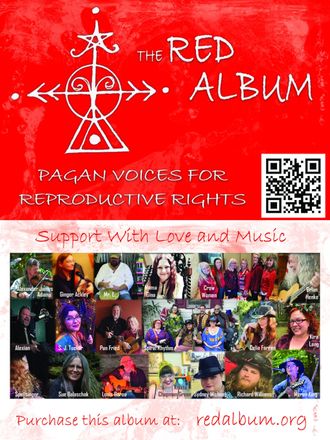 October 2023 Press Release
Introducing USB format with bonus material
For Immediate release
October 25th 2023
The Red Album: Pagan Voices for Reproductive Rights is now available in a USB format with bonus material!
The Red Album; Pagan Voices for Reproductive Rights was released June 24th, 2023, the 1-year anniversary of the overturning of Roe v. Wade. You can purchase a digital download, a physical CD or a USB bracelet at RedAlbum.org.
This compilation album was created by Pagan artists to raise money for supporting reproductive human rights organizations and 100% of proceeds go directly to the beneficiaries.
The Red Album: Pagan Voices for Reproductive Rights is now a part of the protest music tradition.
The 19 tracks on The Red Album represent many genres of music as diverse as the artist's paths. Pagans are earth based and/or multi theistic spiritual practitioners.
"I never thought that I would see the day that my daughter would have to fight for the rights that her grandmother secured for her, and which I took for granted." - Kiki Williamson of Spiral Rhythm
The USB contains The Red Album in .wav as well as .mp3 format, a songbook, artist info, unlimited streaming of The Red Album: Pagan Voices for Reproductive Rights via the free Bandcamp app, and more.
"No one needs to supply anyone with a reason, excuse, or circumstance in order to be able to do with their own body what they will. I will fight for bodily autonomy as long as there is breath in my body!" - Kira Lang
All the proceeds from the sale of The Red Album will go to the National Abortion Federation and Elevated Access. The mission of the National Abortion Federation is to unite, represent, serve, and support abortion providers in delivering patient-centered, evidence-based care. Elevated Access, launched in April 2022, is a volunteer pilot network that flies people in private aircraft at no cost to access abortion and gender-affirming care.
"No human should give birth to an unwanted child!" - Meren King
### end
For more information about The Red Album, artists profiles, and beneficiaries please see https://pagansong.com/the-red-album/
To receive email updates, digital press releases and other digital media for distribution please email theredalbumpress@yahoo.com.